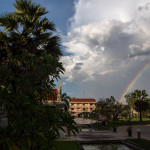 I visited Siem Reap in November 2014. I have thought that Siem Reap was a back water town and boy was I wrong. The city is the main gateway to Angkor which is a UNESCO Heritage Site. There are numerous archaeological sites scattered over an area of 400 km2. The town is full of tourists and you will have no difficulties finding suitable accommodations to meet your budget.
Transportation was not a problem also as hired cars and Tuk-Tuks were readily available around the clock. As I stay right next to the old market and Pub Street, there was a wide selection of restaurants and food outlets to fill the stomach.
The sights were astounding. I will let the gallery show you some of the sights.
Visit my Siem Reap gallery
Camera: Canon 6D
Lens: EF 24-105mm f/4 L, EF 40mm f/2.8